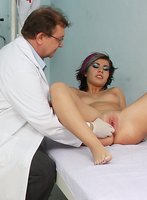 Nurse Watkins now directed her attention to Nicole's wet vagina, and after a moments indecision offered, You know of course that you will be given monthly exams by Dr. Corbin, and to make it easier for him, we recommend that our patients shave their vaginas!!!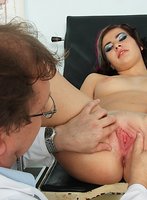 Really, Nicole replied unevenly, I've never done that before!?! Well it has to be done, dear, she replied while getting out the shaving equipment, now be a good girl and just be still while I shave you baby smooth, okay!?! Nicole gulped audibly while Nurse Watkins massaged warm shaving cream into her thick bush, and as her finger bumped into the excited woman's very distended clit, she gasped and moaned, while practically cumming on several occasions!!! When she figured that her bush was soft enough, the nurse carefully used a double edge razor to remove every last bit of hair from the overly plump organ leaving it smooth as a baby's bottom!!!
After dabbing the remaining suds away, Nurse Watkins again squirted some warn oil into her hand, and as her patient gripped the sides of the table, she massaged the just shaved pubis to prevent razor burn!!! With her fur completely gone, the cool air hitting her mons made her shiver slightly, but the nurse had taken special notice of her huge clit as it bulged obscenely out from the folds of her drooling slit!!! Dear, she asked sweetly, I must say that your clitoris is extremely tumescent, does your husband orally satisfy your vagina as well as your nipples!?! Buy now Nicole was going out of her mind with lust, and as she gritted her teeth to maintain her self control, she gasped, Y-yes, he sucks my clitty every night, and makes me cum in buckets!!! Now taking her finger and gently poking the erect little head, she asked softly, Does that feel good, dear, it seems that when I touch it, your entire body jumps a little!?! Sweat was now breaking out on her forehead, and in a voice that quaked with every word she managed to stammer, I-I'm so close to cumming, if you could just rub it a little. Rub it, the nurse asked, I was thinking more along the lines of doing this, and then much to her stunned delight, the effusive care giver leaned over and sucked the little head into her mouth and sucked it for all it was worth!!!